Era un LP raro, comercialmente falando: vinha assinado por Al Kooper, Mike Bloomfield e Steven Stills, três músicos, naquele momento, sem grupo (provenientes, respectivamente, do Blood, Sweat & Tears, The Electric Flag e Buffalo Springfield).
A idéia veio de Al Kooper,
teclista e cantor que tinha sido contratado pela Columbia como solista.
Kooper propôs estrear-se com um disco simples e económico, uma colaboração com Mike Bloomfield, eloquente guitarrista com quem tinha já agendado a gravação do
Highway 61 revisited
dylaniano
.
O conceito seria o estilo do selo Blue Note, juntarem-se para tocar, confiando nas afinidades, alternando temas alheios, com composições próprias.
Como faziam os
jazzmen
desde sempre, os músicos de rock começavam a desenvolver
jam sessions;
geralmente partiam do
blues
como língua franca.
Até esse momento, as reuniões tinham um valor essencialmente social e terapêutico.
Os resultados não se consideravam vendáveis e não foram publicados; ainda não tinha saído, por exemplo, o
Electric Ladyland,
de
Jimi Hendrix.
Kooper contratou então uma secção de ritmo e reservou dois dias de estúdio em Los Angeles.
Imediatamente, surgiu a magia.
Fortes temas de
blues
e soul mais uma ousadia:
His Holy Modal Majesty,
uma homenagem a
John Coltrane,
que havia falecido no ano anterior, com Kooper tocando um
ondioline,
teclado de toque exótico, e Bloomfield explorando escalas de raga com sua prodigiosa fluidez.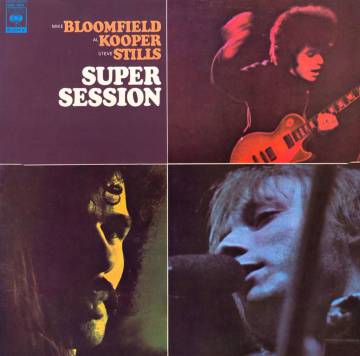 Tudo se complicou no dia seguinte. Bloomfield desapareceu, alegando problemas de insónia (na verdade, um vício em heroína que, a longo prazo, seria fatal). À beira do pânico, Kooper chamou Jerry Garcia e outros guitarristas que, imaginava, podiam lançar-se para a piscina. Finalmente, apareceu Steven Stills.
Para os que lembrem Stills pelas primorosas firulas vocais de
Crosby, Stills & Nash,
será uma revelação de sua vontade, no contexto de uma
jam:
dominava o
folk-rock,
como mostra na versão de
It Takes a Lot to Laugh, It Takes a Train to Cry",
de bob Dylan, mas brilha ainda mais nessa cronica de paranóia que é
Season of the Witch,
de Donovan, aqui sustentada por sua guitarra com pedal
wha wha.
E fica ainda mais ácido (ou seja, hendrixiano) no tópico seguinte,
You Don't Love Me.
O disco resultante é habilmente repartido em dois : Kooper com Bloomfield na capa do primeiro; com Stills no segundo. Tinha truque, devo avisar. Como produtor, Kooper acrescentou estratégicos arranjos de metal que disimulaban deficiências e, caramba, funcionavam perfeitamente. A sua única derrapagem foi ousar com Man's Temptation", de Curtis Mayfield (frases longas e, além disso, não se encaixa com o resto).
Editada em 22 de julho de 1968, Super Session consiguio grandes vendas e foi libertador para os músicos de rock. Kooper tentou prolongar fazendo com Bloomfield, vários concertos que geraram discos ao vivo. Mas o guitarrista continuou lutando com seus demônios particulares e não prosperou. Na realidade, o mito de instrumentistas era perigosa como a moda dos supergrupos. Uma miragem baseada na aritmética simples de somar supostos génios de egos imensos.
Diego A Manrique no El Pais